S1 GX Racers Jump Track Set £9.99 @ The Hut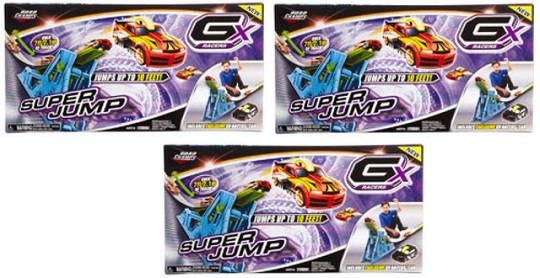 Cars, stunts, and a track that can get cars to jump over ten feet. I always end up feeling like I'm being sexist when I write these sorts of toys up, but while there's going to be girls and mums who love this (and I know I do) this is a toy for the boys. The S1 GX Racers Jump Track Set is down from £19.99 to £9.99 at The Hut.
Whenever I watch my son and his friends play I am amazed at how long they'll spend to create something for that one second worth of satisfaction when it is utterly destroyed or a missile knocks something over. I can only imagine what they'll come up with given a car track set that sends cars flying through the air at up to 10feet.
My other half will love something like this too. I can imagine all sorts of daddy and son bonding sessions while I get to curl up on the sofa and read my Christmas book while drinking my Christmas glass of wine.
The jump ramp is fully adjustable by height and distance, comes with 7ft of track and the car can jump over 10 feet.
Special Features:
1 x Adjustable Jump Track with 7ft of track
1 x Speed Gyro
1 x GX Racer Car
1 x Rip Cord
Thanks to timtom13 at HUKD!