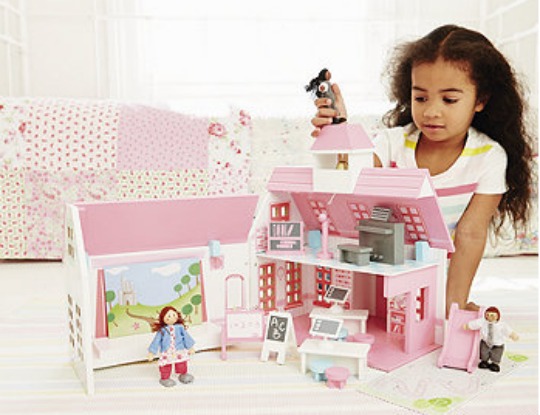 Wooden toys seem to be very sought after just now. The Early Learning Centre have always had a good selection, but I have found them to be a tad overpriced. Not today! This Rosebud Wooden School Playset is reduced from £60 down to £30. It's a nice alternative to a doll's house.
Click here for the Rosebud Wooden School Playset @ Early Learning Centre*
If your child already has a wooden doll's house then why not add to it with this lovely pink themed wooden school? It comes with three figurines, a teacher and two pupils. There's lots of accessories too like a school bell, desks, chairs, a piano and lots more.
To the back of the school is a playground and there's even a stage with a microphone for those special school assemblies. This will certainly fire up the imagination of little ones. Whether they are at playschool or primary school, this kind of set will help them imagine what it's like to be at school.
It's also worth noting that the Rosebud Wooden Treehouse*is down to £20, from £40 just now. Buy the two of them, and that's Christmas sorted for a wee one.
Save even more money by collecting your order for FREE from you local ELC store. Delivery is an option at £2.95.