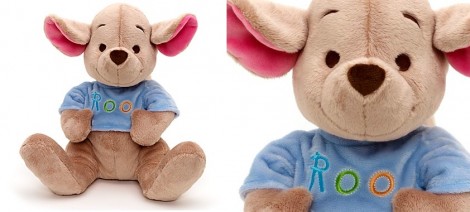 This is a scented Roo Medium Soft Toy, or alternatively a young version of the Roo character from Winnie The Poo. The Disney Store has reduced it to £6.99 from £18. On Amazon it is selling for £24.99.
I know that Disney takes liberties with the Winnie The Pooh stories, but it is hard to resist a baby Roo. Especially one that is designed to be soft, cuddly and fragranced. Roo has a fleecy fur, and a bean bag body.
I wish though that Disney called it something other than "Disney's Wonder Fragrance" as that actually puts me off a bit.I have smelt these toys before, although not the Roo one, and they are lovely. How sweet is he though, sat there like that with his thumbs up and his little floppy ears! Although Roo was never my favourite character in the books, he is like Winnie the Pooh, very cuddly.
The offer is available in store as well. The Roo medium soft toy measures 32cm high by 21cm high, approximately.
According to the Disney website, 25% of the retail selling price of this medium soft toy will be donated to Great Ormond Street Hospital Children's Charity.
Thanks to yummymummy84 at HUKD!