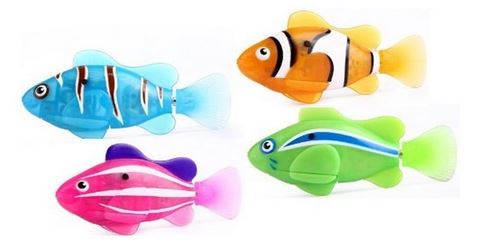 Amazon are selling Robo Fish - water activated fish toys - for £5.15, with free delivery on orders over £10. If you only buy one your delivery will be £3.30, making your order £8.45 so it's almost worth it spending £10.30 on two fish instead.
Robo Fish are water activated robotic fish that pretty realistically swim when you put them in water. They're great fun to watch and are pretty hypnotic, and with their tail fins making life like movements to propel the robot, they look a lot like the real thing, but bigger.
They come in a clear plastic tube that makes them look like they are suspended in the air, and with it comes a display stand and a bonus set of batteries. Looking at the reviews, I'd say keep your receipts as some are just 5-star awesome and some die soon, and may need to be returned.
They're great fun, and very hypnotic, and not much cleaning or feeding required.