Little Tikes Spray & Rescue Fire Truck Ride-On £38.50 (+ £3.49 Del) @ Debenhams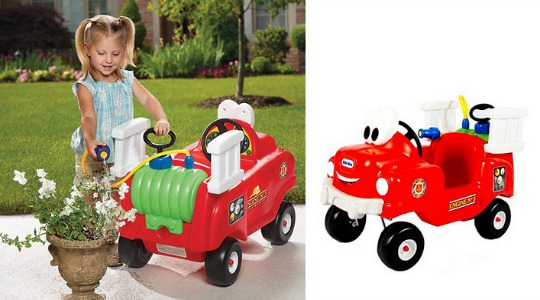 It's not often we find a toy cheaper than anywhere else at Debenhams. Today we have and it's a cracker. The Little Tikes Spray and Rescue Fire Truck is just £38.50 (plus £3.49 postage) from Debenhams. This would set you back £54.99 at Amazon, £58 (reduced from £64.97) at Asda George and £54.99 at The Entertainer. As you can see this is BY FAR the cheapest even when you factor in that delivery charge.
The Little Tikes Spray and Rescue Fire Truck is one of the best ride ons I have ever stumbled across. Why? It has a hose and pressurised water tank! The kids would go wild for this and it's ideal for this time of year. The water tank is removable so it's easy to fill it up with real water.
It's made for children aged 18 months all the way up to 5 years and is made in the same way as most Little Tikes toys... sturdy and chunky.
This Little Tikes Spray and Rescue Fire Truck has four wheels that are free moving and are thick enough to prevent any tipping. Just think if you buy this for a little someone they can go around the garden watering your plants.