If your kids are fans of Jake and the Neverland Pirates then they're going to love this Lego Duplo Jake and the Neverland Pirates playset * (£39.99). Suitable for children aged between 2 and 5 years old, the set comprises Jake's pirate ship as well as a desert island play set, plus Jake and Captain Hook play characters and over 50 pieces in total.
This is a brilliant toy for encouraging imaginative play. The kids we gave this to had a whale of a time concocting all sorts of piratical adventures. It's a really well-designed playset - simple for even little hands to get to grips with but featuring plenty of thoughtful little play details that kids just love to explore. There's a rotating lookout tower which proved a big hit, and the children absolutely loved firing the ship's canon and hoisting the sale to escape from Captain Hook. You can even bury treasure on the island!
Depending on how gender-conscious your kids are, some little girls might find this more of a boys Lego Duplo playset but the girl we gave it to didn't seem to care about that and wasn't put off by the prospect of having to choose between 'being' Captain Hook or Jake.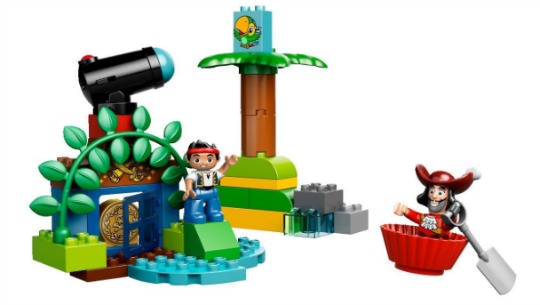 A strong feature of this playset is the fact that it comes with two play characters which creates good opportunities for shared play between more than one child. However children who favour 'goodies' over 'baddies' will naturally want to play with Jake instead of Captain Hook, but we found that created some fun talking points for discussing the way the kids feel about good characters vs bad ones. They had fun exploring the identity of both characters and taking on their chatacteristics, plotting dastardly acts for Captain Hook and making sure Jake was always a hero in the end. Our toy testers were desperate to play with this in the bath too!
Another plus with this play set is the fact that other items in the Lego Duplo range are compatible with it, so our little toy testers were delighted when they discovered that they could incorporate other Lego Duplo bricks and characters to create an epic game.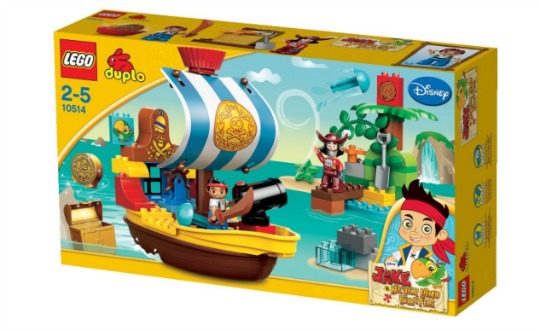 I was impressed by how long our testers were content to play with this, and when they were forced to tear themselves away they talked about it incessantly. On their return it was the first toy they headed for. Of course that might in part be down to the fact that it's new and so a novelty but based on my own children's love of Lego Duplo, I'd imagine that this set would be a big hit in any house for a long time to come.
Lego Duplo seems virtually indestructible too, so it's the sort of item that you can keep for years and even pass down to younger children when interest in it wanes. It's particularly good value for money for that reason. My kids are well beyond the 2-5 age recommendation for this Lego Duplo set but when they spotted it on my desk they were absolutely desperate for the chance to play with it, and talked about it for days even though they couldn't get their mitts on it. But that's the appeal of Lego Duplo - kids love this stuff, and parents love it because it's well-made, hard-wearing and built to last. I reckon lots of Lego Duplo fans would be thrilled to find this under the tree on Christmas morning.
Pros: Thoughtfully-designed and built to last, with enough features to keep children entertained for hours.
Cons: May appeal to boys more than girls.
Overall verdict: 8/10. I'd like to see a female character included in this set.