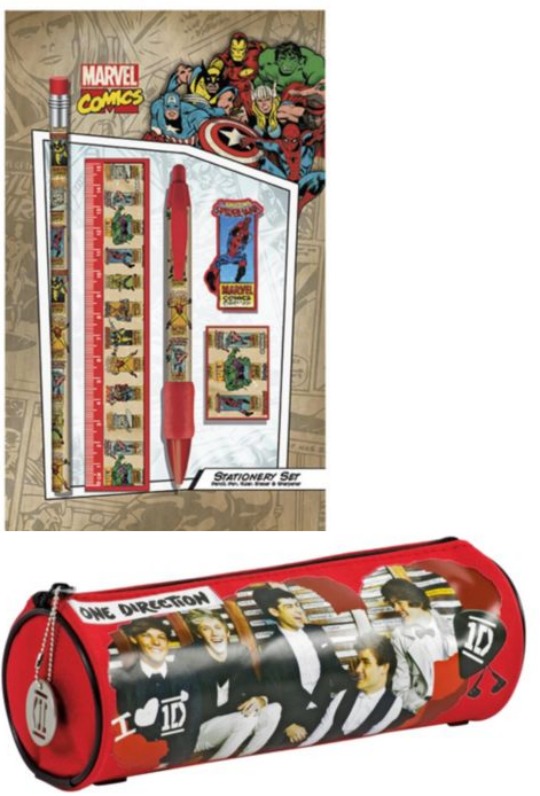 Tesco have had reductions on selected stationery lines for a good while now, but have since added heaps more. Like One Direction goodies from £1 or Marvel Icons starting from only £1.50. To make matters even better they are still running the spend £5 and get £1 off when you use eCoupon TD-YN9J, well until midnight that is.
Both Marvel and One Direction are as popular as ever, so it's always a bonus when you can get some merchandise at a reduced price. I know the majority of kids are already back to school, but it doesn't hurt to have stationery at home for homework. Perhaps, keep these for new terms in the rest of academic year?
To be honest the Marvel Icons will be loved by older ones too, I would think. I know my other half would be happy to take along anything "superheroish" to work. There's four items of Marvel Icons included in the promotion: The small stationery set* @ £1.50, pencil case* also £1.50 and two notebooks for £2.50 each, in A4* & A5*
There's a little drop more of 1D stationery with five items included. I like the pen set* at only £1. Be sure to get the matching pencil case* and A4*/ A5* notebooks too.
Do not forget to add eCoupon TD-YN9J if you are spending over £5, so that you get your extra £1 off. You can find this eCoupon and many more over at our vouchers section.
Save even more money by collecting your Marvel/One Direction goodies free from your local Tesco store, rather than paying £3 for delivery.