Reduced LeapFrog Baby Toys @ Amazon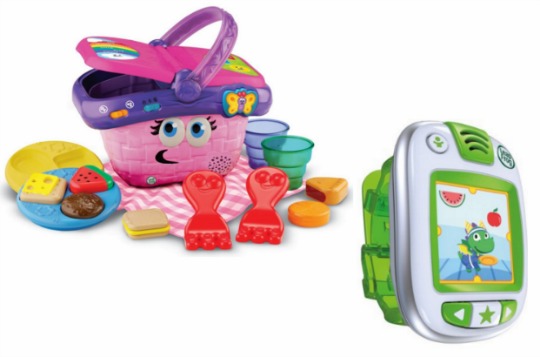 Amazon have reduced the price of LOTS of LeapFrog Baby Toys. If you have a little one to buy for then take the hassle out of shopping for them and get on over. There are some great savings to be had and you don't have to venture out into the cold. We don't know how long these reduced prices will be on for, so you are better snapping up the bargains sooner rather than later.
Here are some of the LeapFrog bargains that we found over at Amazon: LeapFrog My Discovery House* now only £7.49, LeapFrog Shapes and Sharing Picnic Basket* now £13.33, LeapFrog LeapPad Activity Tracker* just £14.99 and LeapFrog My Pal Scout* only £13.33. The LeapFrog My Pal Violet *  is also £13.33, while the LeapFrog Learn & Groove Music Player* is only £6.66 as is the LeapFrog My Talking LapPup*!
If you are planning to get all your baby's Christmas presents in a oner, then spend £50 on those LeapFrog toys and you can save yourself £10. To get that discount, you'll need to sign up to the FREE Amazon Family Trial (remember to cancel within 28 days) and use promo code BABYFMLY10 at the checkout.
You can have your LeapFrog Bargains delivered for FREE if you have Amazon Prime or are spending £20 or more. If you don't have Amazon Prime and you don't want to spend as much as £20, then delivery is £3.30.