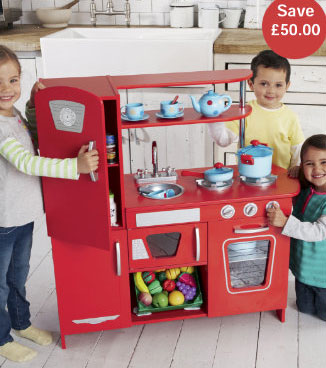 Yes I know that £100 for the Early Learning Centre Red Retro Kitchen is a lot of money, BUT it should be £150!
Before you start leaping up and down telling me this isn't pennywise, just calm down and consider these two things.
1) you are getting an awful lot for your money with the Red Retro Kitchen
2) combine your cash with other family memebers and pool your resources to get one big Christmas pressie, instead of lots of bits of tat! Unless you are from the present-giving school of thought that says more is MORE, even if it is lots of cheap bits of junk.
I'm rather taken with this Red Retro Kitchen and I'm not usually a fan of this sort of thing - my gender stereotype hackles tend to rise!
But this one isn't pink and plastic and deliberately aimed at girls - it's red (the clue was in the name really) and pretty gender non-specific; on top of that it's made from wood and THAT really does it for me, give me wooden toys over plastic any day.
It has built in play fridge-freezer, microwave, oven, sink and hob plus taps, dials to turn and a ton of storage - always important in a good kitchen.
You'll need to buy all the accessories and bits and pieces separately, they're not included.
Delivery, however, is; hurrah!
Thanks to jules070603 over at HUKD