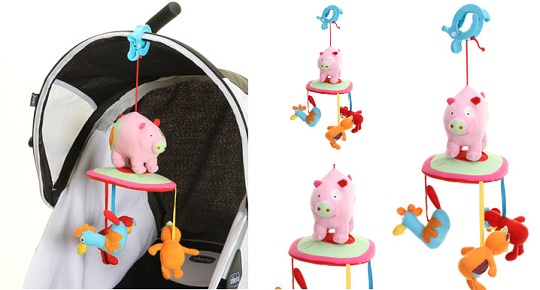 I always found when out and about that just being out and about was entertainment enough for baby. My neice on the other hand was always needing something to play with when in her pram. Even the shortest journey would a nightmare if you forgot to pop a toy in there. And of course the first thing she'd do is throw it out, so having a clip on toy was an absolutely necessity. Reduced to half price, at £4.99 the Red Kite Klip On Mobile is worth taking a chance on. Especially if you don't know whether your baby will want toys in the pram or not!
The Red Kite mobile is described on the website as a "bright and cheerful mobile toy". It  clips onto surfaces and has a brightly coloured pig design to it. the mobile also has a safe mirror and three hanging toys with hidden rattles, crinkles and squeaks.
It clips onto car seats, prams etc with the clip attached, and is suitable from birth upwards.
Nearly all eight reviews on the site give this a five star rating. Typical comments include "This is great just clips on the pram or cot, so can be used with baby's activity play gym. Very colourful, with lots of things on it for baby to play with as they get older."
One reviewer does just give it three stars though. "It hangs too far down when put on the car seat bouncer, it becomes too much in my babies face which he doesn't like as it blocks his view." So it may depend on the configuration of your pram.
Thanks to goonertillidie at HUKD!