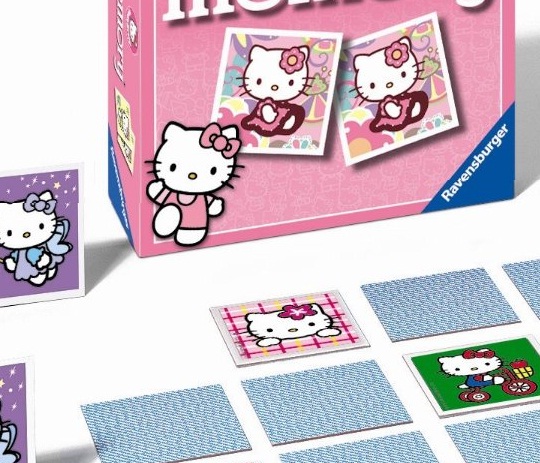 Play games the old fashioned way! With physical objects instead of on the computer or TV screen. Amazon has cut the price of the Ravensburger Hello Kitty Memory Game by just over half. Down from £9.99 to £4.66. And the reviews on this game are really good. So if you've a Hello Kitty fan (or are one) it is worth having a look.
See Hello Kitty in lots of different scenes in this colourful memory game. Turn the 72 picture cards face down - can you remember where the matching pairs are? Suitable for 2 or more players, and for children aged from 4 upwards.
Delivery is free with Amazon Super Saver Delivery.
This is typical of the reviews for this game on the website. "The box contains 72 cards which are matching pairs. Each pair (36) has a beautiful picture of kitty in various different scenes, a wedding picture, a couple of charleston outfits, a doctor, a mermaid etc.
The cards are produced from thick, durable card - more like a jigsaw type thickness, that will hopefully stand the test of time.
My 5-year daughter loves Hello Kitty and adores playing this game - she normally beats me! An excellent game to train the memory and gain good concentration from youngsters!! Highly recommended."
Thanks to dudebar at HUKD!