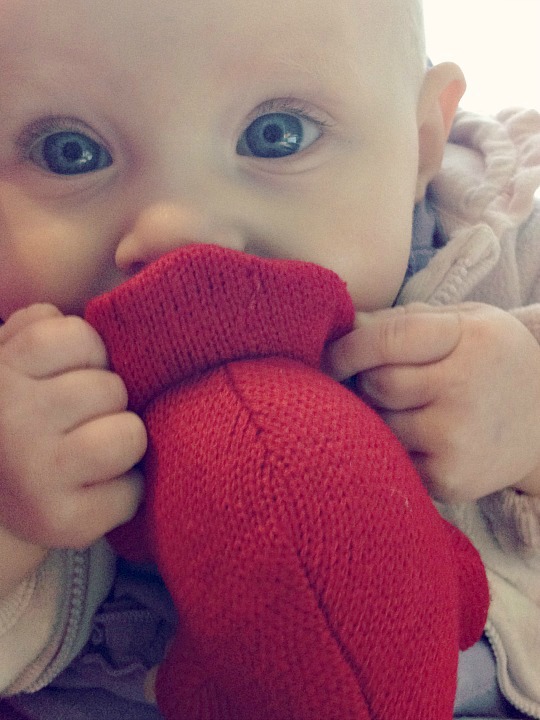 Let me start this review with a disclaimer: I am not easily impressed by toys for babies.
I have three kids; you can imagine how many toys we've tried and tested over the years. There have been those we've loved and those we've loathed (anything noisy and plastic) but by now, with baby number three just beginning to get more curious about the world around her, we've pretty much done away with all the random toy clutter that you end up amassing when you have a baby. I'm just not convinced that babies really need a ton of toys; especially not when they have brothers or sisters to keep them entertained. No toy can compare with that.
But having said all that, the Rattle & Roar knitted toy from Best Years (available for £8.95 plus £2.75 delivery at Not On The High Street and there are a handful left in stock at Amazon* too)  and from Just for Baby for around the same price, is just about one of my most favourite baby toys ever. The whole family loves this guy, and baby just adores him. Read on to find out why...

I mean take a look at this guy. Doesn't he just make you smile? Man, he makes me smile with my kidneys. (That'll be wasted on you if you've never watched Julia Roberts in Eat, Pray, Love.)
Anyway, my point is that this toy has significant cheeriness factor. There's just something about him that makes everyone who claps eyes on him adore him.
Best Years say these knitted toys are "tactile, robust and machine washable" and while they're not fair trade, they are ethically sourced, which I happen to think is pretty darn important. Who cares how much your baby loves a particular toy, if the people who helped to manufacture it were little more than babies themselves, or paid less than a decent living wage?
Best Years does a whole range of wholesale knitted dinosaur toys, and we were sent the small knitted red triceratops for this review. It's difficult to do justice to his appeal but it's just lovely to hold something knitted in your hand as opposed to all the baby toys which feel very mass-produced and synthetic.
His rattle noise is lovely too - an easy-on-the-ear twinkly noise rather than the irritating sounds that some rattly baby toys make.
I love that this is machine washable because my daughter loves to suck on the dinosaur's nose, and it's great that this is so brightly coloured and suitable from birth - it's one of the few items which she really took a shine too very early on. She absolutely loves working out how to move it around to make it rattle, too.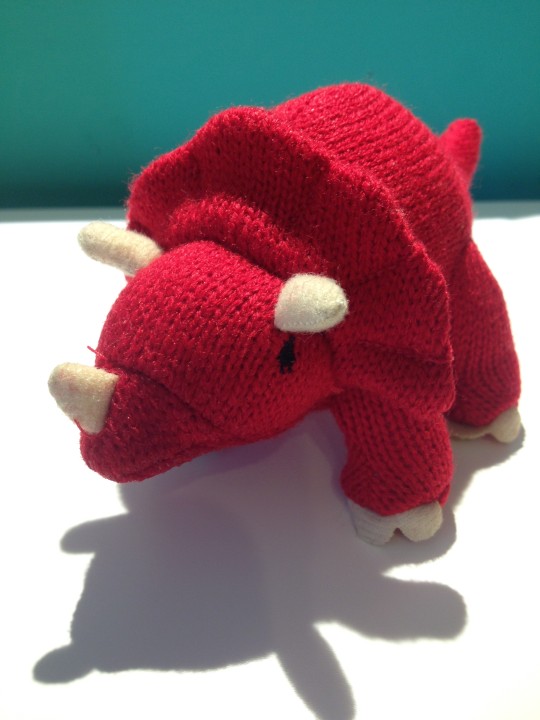 I don't often say this in a review but I am thinking seriously about investing in the whole range of knitted dinosaur toys from Best Years. I think the whole set would make a lovely collection - perhaps we'll give our little girl a different dinosaur for every birthday - and I can imagine these being the sort of toys that will stand the test of time and could be lovingly passed down from one generation to another. You certainly can't say that about many modern baby toys!
We definitely plan to buy the larger version of the knitted red triceratops, which measures 32cm, but the green knitted T-Rex (£12.99 from Amazon) is also adorable. If you have a fan of Peppa Pig in your house then this guy will be a hit as he looks just like George's dinosaur!
Pros: Lovely, cheery, ethically made baby toy which washes well and won't break the bank. They're available to buy wholesale from Best Years, too. 10/10
Cons: Nope, can't think of a single one!
Overall verdict: We absolutely love the knitted red triceratops by Best Years. He's the perfect size for little hands that are just getting to grips with holding onto things and shaking rattles. He fits neatly in a nappy bag without taking up loads or room, he's machine washable, he's part of a lovely range of other dinosaurs which you could amass for a cuddly dino collection, and he made us smile in our kidneys. What more can we say?!