Raptor Electric Quad Bike £129.99 @ TJ Hughes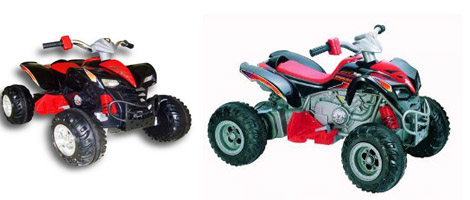 The Raptor Electric Quad Bike is one for those very, very lucky children whose parents have room and money! Marked down from £299 to £129.99, there is a saving of a whopping £169.01 on this absolutely awesome toy from TJ Hughes.
The Raptor Electric Bike is a ride-on children's toy that is ideal for kids aged three to eight. It comes with bespoke wheels, a sleek body and handlebars that have been designed for superb control. The battery is a powerful 12v and is rechargeable, along with a 30 watt motor and two different speeds.
Kids can zoom along at 3.5km/h or go to a maximum of 7.5km/h (wow, is quite fast) with a maximum reverse speed of 2.2 km/h. The throttle is a twist to go dude and the entire machine is apparently easy to assemble.
I swear, if I didn't have such limited house space I would SO love to get this for my child. It is truly awesome. It's the kind of Christmas present I'd love to have received as a child myself. Utterly awesome.
Thanks to gemmyw at HUKD!