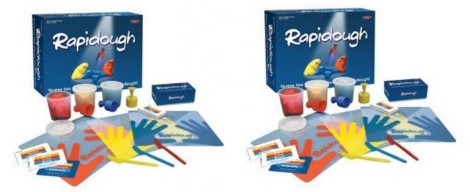 This is actually the first time I've heard of Rapidough. But it sounds hilarious. And I've ordered a box for the present drawer. It would make quite a good gift for a boy or girl. Gifted.com has reduced it from its recommended retail price of £32.49 to £6.99. The cheapest I could find it elsewhere online was for £19 at Litchfords.
The game is kind of like 3D pictionary. Instead of drawing out the word, you've got to sculpt it. And, if you lose the other team get a chunk of your dough. So potentially, you could be left trying to sculpt an elephant out of a pea-sized piece of dough.
Sounds like a game I'd be rubbish at really. I've no artistic ability at all. In fact, I can't even do pictionary! At 6, my son is a bit young for this I think. Unless the words you have to guess are some form of dinosaur. But I can think of quite a few relatives with children aged 8 to 12 who'd love it.
In the box you get three each of modelling dough containers, tools, mats, and plungers. Also there are 500 Rapidough word cards and the all important rules leaflet.
Thanks to wishihadadonkey at HUKD!