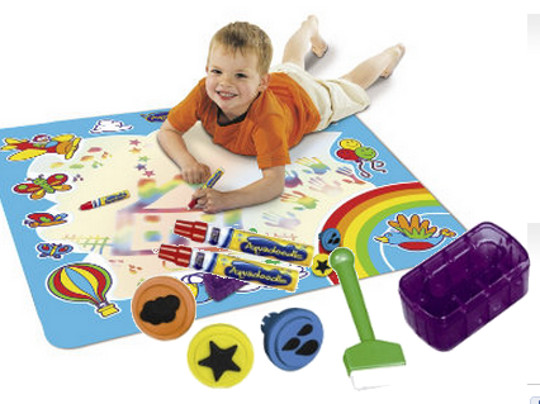 There's an £8.01 saving on the Rainbow Aquadoodle from Mothercare, where it's selling for £19.99 instead of £28.
This 75 x 75 cm Aquadoodle mat is a no fuss and no stress activity for kids, which I'm sure helps most mums take a load off too. It encourages young artists to develop their artistic and creative skills in an easy and fun format.
You simply fill the pens with water and let little ones free of the Aquadoodle mat. As the water dries, the picture disappears, allowing for a new masterpiece to be created.
The kit includes two chunky and easy to hold pens, three stampers, a paintbrush and a no-spill water paintbrush pot, so small people can have loads of creative fun, and can probably learn a bit of sharing and turn taking too.
I always wonder with these, whether they make an environmental impact too, as children aren't using up as much paper, but then it's possible that the production and landfill breakdown can totally negate that, so I'm not sure. Either way, it's a fun activity and saves you cleaning up paint for longer than they spent crafting!