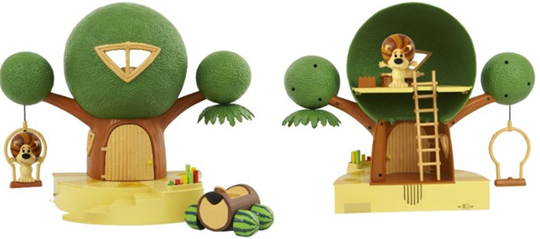 Tomy has recently released Raa Raa's Interactive Playset - a cute little toy version of the treehouse in the popular kid's TV show, Raa Raa The Noisy Lion. And we're going to give it a review!
I've seen the Raa Raa kid's TV show a few times, but it's never really been one of my little girl's favourites. The playset is very accurately made though - it's almost identical to the house Raa Raa lives in on the show. This would be a definitely plus for kids who like Raa Raa the noisy lion.
As well as the main treehouse playset, this toy comes with a few accessories; the cubby buggy, a drum set, a chest, a ladder, and of course, Raa Raa himself. The extra elements don't really do anything "interactive" as the name of this toy might suggest - they're just little extras that the child can use for imaginative play. I've been finding the various bits and pieces all over the house though; Raa Raa in my laundry basket, the ladder in the bathtub, the drums down the back of the TV!
As for the interactive part of the toy, you can slot Raa Raa into one of two smart spots on the treehouse playset. When you do so, the toy will emit some sound effects, various roars and a few of Raa Raa's phrases. When you buy Raa Raa's little friends and use them on the playset, they will activate more and more noises, some 30 potential phrases in total.
The toy is pretty solid though and it's well-made, even the little cubby buggy. I am usually not a fan of plastic toys, I much prefer wooden toys, but the Treehouse playset seems quite tough and durable, sturdy enough to stand up to the daily rigours of a toddler.
On a negative note, I was quite disappointed with the battery needs of this toy. I first tried it with a couple of rechargeable double AA Eneloop batteries, only to find I couldn't get it working. I thought the batteries might have been dead, so I tried a couple more; again, to no avail. I actually had to get my partner to nip to the shops to get a pack of non-rechargeables; they were the only batteries that worked in this toy. While my daughter had fun playing with the toy for a couple of days before I managed to get the batteries(you can still use it without - the powered features really aren't that spectacular anyway), there are only a few sound effects from standing Raa Raa on the smart spot.
That's quite a bad point though - with the amount of toys in the house which require batteries, if a toy doesn't work with rechargables, it's not likely we will replace the batteries once they are depleted.
I gave the toy to a friend of mine, who also has a 2 year old toddler, a little boy this time. He is a HUGE fan of Raa Raa The Noisy Lion, and was incredibly excited when he and his mummy were taking this out of the box. Just to have his own little Raa Raa was amazing to him. His mummy also found a similar situation to me in that Raa Raa was turning up everywhere around the house too. My friend came up with one point that I hadn't thought about regarding purchasing the extra figures - if you buy the sets of 3, they actually come with another Raa Raa - what to do with two Raa Raas!?
As Raa raa is a show loved by either gender, this interactive playset would be a great gift for either a little boy or a girl this Christmas.
Price wise, the Tomy toy is selling around the £35 mark, which isn't too bad for a Christmas gift, though you might be able to find it a few quid cheaper on special offer.
To purchase Raa Raa's pals, they're quite reasonable - a 3 pack consisting of the giraffe, the elephant and the monkey comes in at £6.50 at Asda. Just watch out that you don't buy the set with a second Raa Raa!