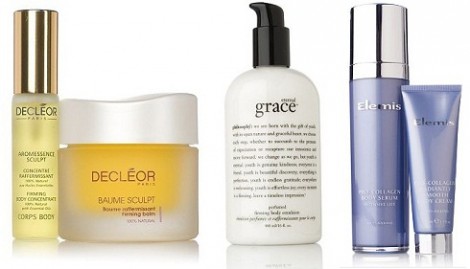 Just how much are you willing to spend for great looking and feeling skin for the summer? Or any time of the year for that matter?
Here at PlayPennies we all thought that honestly, these skin creams and lotions are much of a muchness and you're just paying for the extra marketing and a bit of posh perfume. The consensus was that if we were really feeling like treating ourselves we might spend a fiver, maybe £10 on a big bottle.
QVC wanted to challenge those preconceptions. Its argument is that you can get great value for money by spending more. Well, that made us think. We'd all come across false economies before - those items we've been enticed to buy because they were so cheap and then had to spend lots more money to fix things afterwards.
There's only one way to know for sure and that's to actually test the products out. I gave these to our PlayPennies mum of one Theresa, partly because she lives next to the sea and needs all the moisturiser she can get.
To start with Theresa was really impressed with the selection of items that QVC sent for this review. She's someone with a massive complex about her arms - and a quick poll in the playground this morning revealed that pretty much all mum's seem to have the same complex.
Theresa explains that "her arms "have always been a bit fat at the top, even when I was at my skinniest, and now that I have hit my 40s I find that they have a weird cellulitey look to them at certain angles and in certain lights. Needless to say, the first time I saw this on my arms I was horrified and spent the next two weeks of a blazing hot summer, wearing long sleeves or wafty cardies to hide them." I think most of us can relate to that.
"So I welcomed these products with open arms. And it is a good thing I did. They ask you to do a LOT of work! Well, a lot of work to someone like me who thinks that remembering to put moisturiser on at night is a bit much..."
It sounds like Theresa is going to take a lot of convincing. QVC has its work cut out for them. Let's see how they fare.
Elemis Pro-Collagen Body Serum
The first product Theresa tried out was the Elemis Pro-Collagen Body Serum (140ml). You also get a 50ml bottle of Pro-Collage Radiantly Smooth Body Cream. This is priced at an eyewatering £46. And then there's postage and packing on top of £4.45. To be honest I don't spend that much on shoes.
According to the website this provides "an instant feeling of skin firmness and lift - a perfect solution for slackening skin on the buttocks, abdomen and arms."
You lightly massage the lotion onto areas of concern in the morning and the evening and then to follow up with the Pro-Collagen Radiantly Smooth Body Cream. Theresa found that it only took a few squirts to cover both arms. She also used it on her tummy and upper legs.
"I applied the lotion after my morning shower and workout and then again just before I went to bed." says Theresa.  She thought that it had a light, fresh smell that really appeals to her and found that the lotion isn't too sticky. For testing purposes she used only this serum and the body cream on her left arm, to monitor any changes.
After five days of regular application, both morning and night, she had to admit that her arm did feel a lot smoother and softer. To Theresa's highly critical eye, she felt it deserved a  7 out of 10 for visible difference over 5 days.
She was disappointed in the size of the bottle of body lotion. Although one tiny squeeze will go over both arms, she didn't think it would last anywhere near as long as the serum.
The perfume also gets a thumbs up. It isn't scented too strongly so won't clash with other scents.
Theresa's final verdict? "They do work, they will last around a month of regular use and I love the way they make me feel. They get 8/10 for appeal. 6/10 for value for money (the tiny tube kills the deal in my view). 7/10 for doing the job they were supposed to do."
Philosophy Eternal Grace Firming Body Emulsion
The Philosphy Eternal Grace Firming Body Emulsion (480ml) is apparantly an ultra hydrating body lotion with antioxidant and firming properties, enriched with natural oils. It is priced at £26.50, so a little cheaper than the body serum.
However, Theresa found that she only needed about five squirts to cover her entire body, and thought it would last longer than her usual body lotion.
She particularly applied this to those parts of her body that suffer from dry skin -calves and lower arms. "After 5 days they felt fantastic and SO elastic! I am not kidding. It is like applying a magic puffing thing to your skin - it just sort of gets all soft and flexible."
She gave this a 9/10 for quality, smell and doing its job despite the high price. "I don't rate these lotions very highly but this has made my sensitive dry skin postively GLOW."
Decleor 2 Piece Aromessence Sculpt Collection
Theresa admits that she'd never have spent this much money on the Decleor 2 Piece Aromessence Sculpt Collection, £43, so if she hadn't got it for review it isn't a product that she'd ever have tried. Now that Theresa has though, she can fully understand why people are willing to spend so much money on it!
First up the Decleor Baume Sculpt firming balm. You apply it in the evening by warming a dab between your hands and massaging over the entire body from the legs upwards, concentrating on legs, tummy and arms. As soon as she opened the bottle Theresa could see why it needed to be applied at night. The smell of lemons is very overpowering.
"You also really only need a TINY amount to get the job done as this lotion warms up in your hands - you can FEEL it warming up - and sort of grows. You may need 2-3 dabs if you plan to do your entire body." says Theresa.
She found it made a slightly more visible difference than the Elemis but the smell nearly drove her and her husband insane.
And finally...
So what was the verdict? In the quest for lovely skin which product would our frugal parent Theresa actually be willing to fork out for in the future?
Surprisingly it was only the smell not the price that stopped her from choosing the Decleor. "If I lived alone and wanted awesome arms, the Decleor is what I would buy." But for a fragrance free result, the Elemis is what Theresa is going to buy in the future. Overall, for the result achieved and the feeling of well being it gave her plus the small amount needed to be used meant she felt it worked out to be worth the money.