QUICK! George Home 2 In 1 Wooden Play Shop & Cafe £35 @ Asda Direct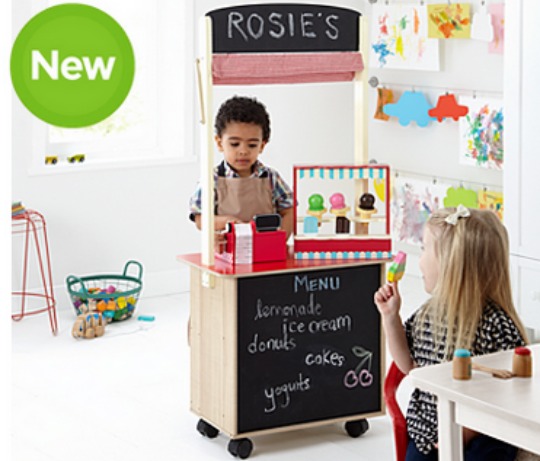 Oh Asda Direct, how I have been watching thee like a hawk for this baby to come available. Since the launch of their wooden toy range, a large selection has been out of stock. This is the first time I have seen the George Home 2 in 1 wooden play shop & cafe in stock. This will sell out for three reasons, it's only £35, it's made of wood and it's absolutely charming.
The George Home 2 in 1 wooden play shop & cafe is made from a mixture of solid wood and MDF. Wooden toys look like a piece of the funriture and I like that, also they are durable and seem to stand the test of time. It's painted in a way to make it look almost vintage. If you bought the kitchen or other pieces then, this will actually match.
This snazzy shop/cafe is a child's dream, it's two role play toys in one, a cafe and a shop. There's a shop front plaque for the shop/cafe's name and even a blackboard for them to right specials on.
Listen to this, it's on casters so wheel them out and get them selling cupcakes out the front. It has a charming fabric canopy on which makes it look. Check out these other wooden toys in stock, the fire station*, dolls pram* and dolls house*.
Delivery costs vary on the wooden toys from £2.95 to £4.50, even when factoring this in the George Home 2 in 1 wooden play shop & cafe from Asda Direct is still a steal.