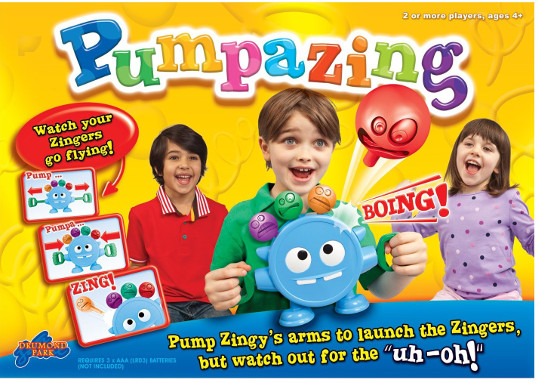 Did you see the Pumpazing review this afternoon? You can read it to find out the finer details and pros and cons of this game, and if you like it, don't pay £19.99 for it! In fact, Smyths sell it at £15.99 normally, but it's currently for sale at £7.99.
In brief, Pumpazing is a game that sees you pumping the arms of Zingy, the blue 'man'. At random, one of the Zingers, his hair, will fly out and he'll 'say' 'boing', 'zing' or 'uh-oh'. If he says 'uh-oh', you lose a card, and continue taking turns and playing until only one person has any cards left. That person is the winner.
Alternatively, you play sudden death with the first person to get an 'uh-oh' being 'out', and continuing till the last man standing.
It's a fun game, although it doesn't stay interesting for little ones very long - but then it's intended for children over 4, so that's fair enough.
Personally, I'd rather pay £7.99 for it, rather than £20 or even £16, and it would make a nice stocking filler or some such 'filler' gift.