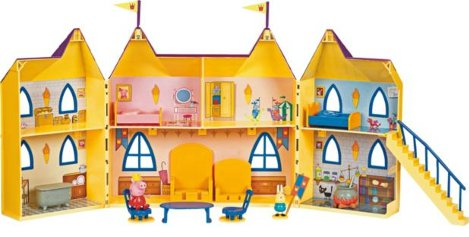 Argos have a sale on a range of Peppa Pig playhouses at the moment, and  one of the best offers seems to be this Princess Peppa's Palace playhouse which is £19.99 instead of £39.99.
I must admit, I've totally gone off Peppa Pig. I loathe the repeated portrayal of Daddy Pig as an idiot, and after tweeting about it recently, I discovered I wasn't alone. Many people find that rather offensive – but I was assured that in later episodes, Mummy Pig gets her come-uppance too. And really, I don't know how I feel about that either.  But my daughter loves Peppa, and especially her as-big- as-her Peppa Pig doll, so we've kept that, but the DVD's have mysteriously disappeared from our house.
She does have a Peppa's Palace too, and she absolutely loves it and plays with it for hours on end. This is the smarter version, it seems, as it comes with a few accessories, such as thrones for the King and Queen, beds, tables and chairs, an oven cauldron and an exclusive guardsman. It comes with a Peppa figurine and for the price many people felt that it should've had more accessories, but at this price, hopefully that makes up for it.
These are out of stock for delivery, but there does still seem to be stock around the country.
Thanks to Turnip at HUKD