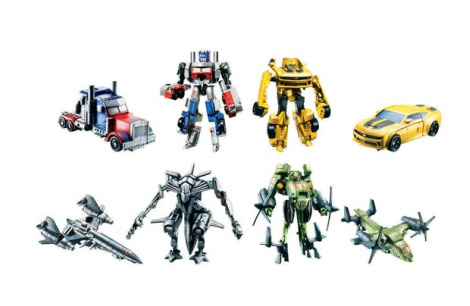 Toys R Us have a selection of Transformer toys up for grabs at half price at the moment.
This is GREAT news, it's my youngest's birthday on Sunday and he's Transformer MAD; the bad news is they don't have the one he wants (the good news is Argos do and I managed to get 10% off it too).
Most of the Transformers included in the half price deals are the Transformer Power Core Combiners 2 pack - now £4.99 instead of £9.99 -  so they're not the great big huge ones that will set you back the best part of between £30 and £50 (now you know the ones my youngest is willing to sell his soul for!).
But as any young Autobot or Decepticon fan will tell you, a Transformer is a Transformer so just GIVE IT!
There is also a Transformers Pinball game on sale for £12.49 instead of £24.99 and a Transformers Pop-Up tent for £9.99 instead of £19.99.
You can click and collect for free with Toys R Us or their standard home delivery is just £4.95 (if you spend over £50 delivery is free) and they'll aim to have your order with you within 4 working days, unless you live in the middle of nowhere and then they say it'll take longer.
Happy Transforming!