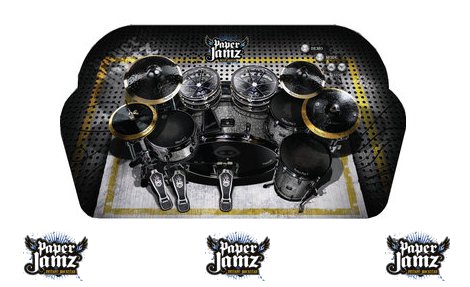 Toys R Us are selling Paper Jamz Drusms for half price - that's £9.49 instead of £18.99.
I SO want to give these Paper Jamz Drums a bash, literally - they look like an awful lot of fun.
My mum plays the drums (she's also rides a rather large Japanese sports bike, she's a bit cool like that) but BOY are those drums noisy when they're beng beaten to within an inch of their lives. Not only that, they take up a lot of space AND a full kit really isn't one of the cheapest things on the planet.
So all hail the Paper Jamz Drums if your kids have developed a need for drumming.
They take up less space than a sheet of paper, in fact they are MADE of paper and won't cost you more than a tenner.
How do they work?  Well, Paper Jamz Drums have Active Graphics Technology which allows for circuit-embedded paper, enabling you to play like a pro by simply touching the paper surface.
There is also a built-in speaker and a line-out jack for earphone or amplifier connection and volume control is included too.
There are various modes of play and even a karaoke setting too - I think I'll skip that bit, I make small children cry when I attempt to sing!
Paper Jamz Drums are available for home delivery (£4.95) or free in-store collection (a much better idea).
Thanks to Mr Mojo Risin at HUKD