Half Price Mega Bloks Mini Blocks Tub @ Argos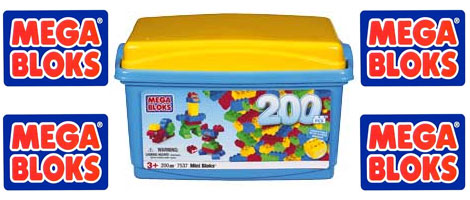 Argos are letting tubs of Mega Bloks Mini Blocks go for half price at the moment.
It doesn't matter to me whether I build with properly trademarked Lego, giant Mega Bloks, normal Mega Bloks or Mini Mega Bloks (a bit of an oxymoron if ever there was one!), I just love building things with them.
The other day, me and my youngest built a 'mega awesome' (his words) Mega Bloks castle for his Bakugan's to live in.  It was huge, it was sturdy and it had turrets and doors and everything.
I'm not sure who had the most fun to be honest, him or me, but we were playing together and that was great - I was also named the best Mega Bloks castle-builder EVER.
This tub of Mini Mega Bloks comes with 200 brightly coloured pieces for your building delight, in a robust and deep tub (there are few things more infuriating than a tub that's just not big enough again once you've taken everything out of it!) that has a snap-on lid.
The usual price for these Mini Mega Bloks tub is £29.99, Argos have reduced it to £14.99 and it's avaliable for home delivery (but for £5.95 why would you!?) or collection at your local Argos subject to stock.
Thanks to the fat controll over at HUKD