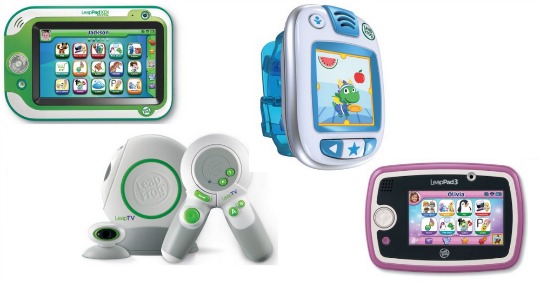 Today Amazon have started special offers on selected Leap Frog products, making some of them half price. It includes Leap Pads, Leap Pad Ultra, Leap TV, and the Leap Band Activity Tracker.
These are all separate offers, so they aren't all one one link I'm afraid. Here's what they have on offer:
All these have dropped in price only today so there are plenty of stocks about right now. Everything over £20 will also have free super saver delivery included in the price, and with the activity trackers which are just under that spend it's better value to add something small to your order to take it over £20.
My eldest was given the LeapPad 2 when he was three, and he still plays on it sometimes now, even though he's nearly 6. The learning apps on it are really good fun, and there are so many cheap games to add as well. I think it is the in built games and features that he has used the most though - I've lost count of how many 'movies' he's made with the camera and "Cartoon Director". It was twice the price that these are now, and it's a great piece of tech for young ones. Much safer than letting them at a tablet as well, as they are  not free to explore the internet. I'd definitely recommend the LeapPads, and at this price they are great value as well.