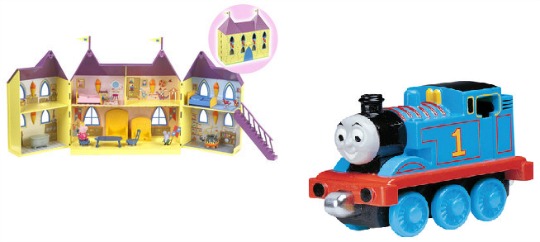 Head on over to Toys R Us today and you will see an abundance of offers on toys and fun goodies. Like buy two get one free (3 for 2) and half price offers. Chances are if you make use of the 3 for 2 you could well be spending a minimum of £30. If that's the case, then don't forget to use the £5 off coupon code BIRTHDAY7. Some of the brands included are Peppa Pig, Skylanders, Fisher Price, Thomas & Friends and many others.
The Peppa Pig Princess Palace is half price at £19.99, and is on offer at other retailers for £24.99. It's suitable for Peppa fans of three years and over and comes with a host of accessories. This is the sort of toy that will get played with until it's worn out.
Items start at £2.99 in the Thomas & Friends 3 for 2 offer. This adorable Percy* is only £2.99 add it to the Take Along Thomas* (£5.97) and the Take Along Dart* (£5.97) and you can get all three for only £11.94.
There's a LOT of bargains to be had. Don't miss out and get over to Toys R Us now! Remember to use coupon code BIRTHDAY7 if you are spending £30 or over. Click and collect for from your local store for free or pay £4.95 for delivery.
Head over to our vouchers section for Toys R Us coupon codes and lots for other retailers.