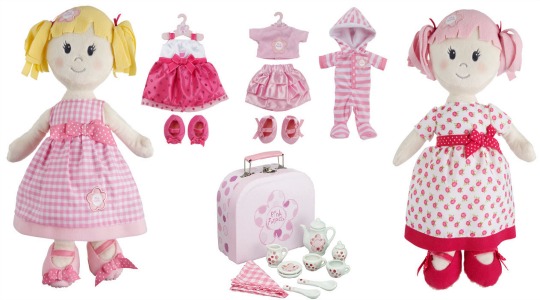 How adorable are these Pretty Poppets Dolls from Mothercare? For today only these are Half Price - the dolls are £10 each and then there are a variety of outfits and accessories that are all £5 each.
The blonde rag doll has a cute pink dress, but I love the pink haired doll with her red flowered outfit - she's the one I would have chosen when I was little! Both come in a gift box with a certificate so that they can be given a name, date of birth, and who they belong to.
The accessory kits are mainly outfits to dress the dolls in - a pyjama and slippers set, a birthday dress with party shoes, an all-in-one, and a tutu outfit with ballerina shoes.
You can also get a sleeping bag set so dolly can go to bed at night, and best of all is a little miniature tea set so that you can hold tea parties!
I absolutely love the look of these toys, they look so sweet and make a lovely change from all the noisy plastic toys that will be under the tree in our house - I'd be grabbing these right now if I had a little girl to give them too, but I don't think my boys would be too impressed with them. Oh well...
The Pretty Poppets Dolls and Accessories are available for Free Click & Collect, or Home Delivery charges are from £2.95.