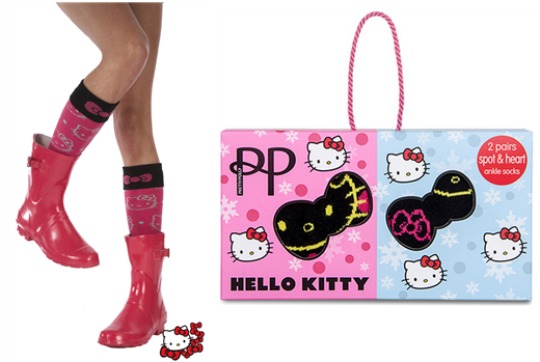 I love when to brands collide and make like a super product. Remember I blogged about Doc Martens and Adventure Time fusion last week? Well these are a bit of fun for us mummys and are every bit as cool. We all know Pretty Polly are about as good as it gets for hosiery but normally you'd pay £££'s for their socks and tights. They have a sale on ALL Pretty Polly/Hello Kitty Socks and Tights at Pretty Polly's online shop. Each HK/PP line is now £2, which is a bargain when you factor in their original price.
Who says the kids should have all the fun? The Pretty Polly/Hello Kitty range covers adult sizes 4 through to 8. I like a bit of novelty fashion and incorporating a bit of fun into your wardrobe with socks and tights is a subtle way to do it.
I'm not sure I would be brave enough for these PP Hello Kitty Tights* but they sure are a bargain, reduced from £8 to £2. They would be great for those quirky teenage girls though.
These Hello Kitty Ballet Slippers* are a safer option for us more conservative, but still a wee bit cheeky ladies. Postage and packaging is a very reasonable £1.95 or FREE when you spend £20+.
Why not treat yourself to a little bit of feline fun?