My Very Pretty Doll Dressing Pack For £5.99 @ The Works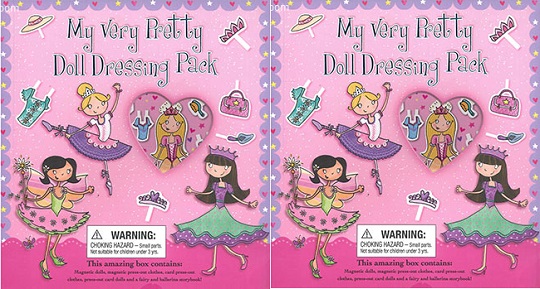 The recommended retail price on this fun paper doll pack is £14.99 but you can get it at The Works for just £5.99, that's a lovely £9.00 off. There are stories, paper dolls to dress and hours of fun to be had with the My Very Pretty Doll Dressing Pack from The Works. The girls are going to have so much fun with this one.
This fabulous pack is the perfect goody box for little girls and would make a really cool and affordable Easter gift for them too. The pack comes complete with a fairy and ballerina storybook and press-out dolls and clothes that you can match to the characters in the book. The girls can also use their imagination and make up their own fun stories.
The dolls and their clothes are magnetic so the clothes stay on while the dolls are moving around acting out the story and they stick to the fridge or window frames for extra fun. They're guaranteed to keep any young fashion designer entertained for hours!