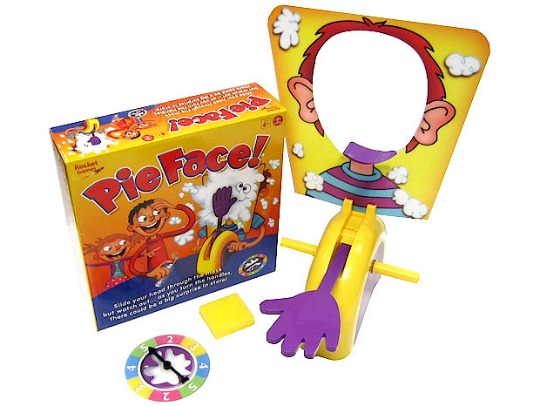 Have you seen the you tube video of the Pie Face game? It looks so much fun, and it shows why this game is so difficult to get hold of. Everyone in the US is after Pie Face, and the same is likely to happen over here. The good news is that they are taking pre-orders at The Entertainer right now, although stock is not expected until August. The game is so much in demand in America that The Entertainer website has had to splash a big "We cannot ship to the US" banner across the page! The Entertainer are charging the RRP of £15, but that's a fraction of the price you will pay on an auction site like ebay.
It's a really simple but fun game. You put your face in the frame, pie foam gets put on the paddle, then you spin the disc to see how many times you have to turn the handle, and hope that your face doesn't get splatted. It's like russian roulette with foam. I don't know why no one thought of this before!
We don't know if anywhere else is taking pre-orders for the game yet, but we will let you know is they do. You can get pre-order them online from certain overseas sellers, but for around twice the RRP of £15! When you order from The Entertainer you are going to have to wait for the UK release date, but at least you won't get overcharged.
Thanks to mrsmousey44 @ HUKD