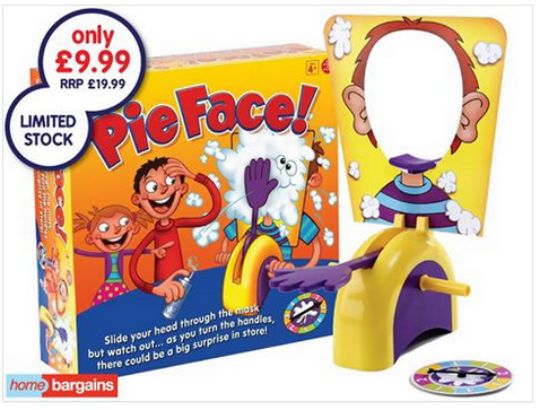 The hugely sought after Pie Face game is changing hands for silly money on eBay, and is proving very difficult to get hold of. But today it has appeared on the Home Bargains website as a pre-order, for just £9.99! That's half the RRP, and £5 less than The Entertainer are charging for their pre-orders.
You won't even have to wait long for stocks as they are expected in on 22nd July!
Click and collect is not available on this item, so home delivery will add around £3.49 to your order, still making it cheaper than anywhere else by a long way. There may be stocks going in to stores as well, and the price will still be the same at £9.99, but I would imagine they will get snapped up very quickly.
This looks like such a fun game, even though it is so simple, and just the sort of thing to get the whole family playing together. If I can only work out how to fix it so my Dad gets the pie in the face...