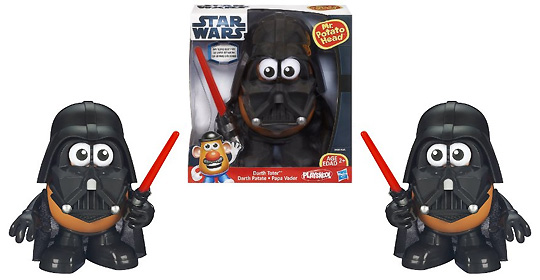 Tesco are selling this Mr Potato Head Darth Tater for £7.50.  His usual price is £15.00.
Mr Potato Head Darth Tater is such a cool pressie for two groups of people
1) Young Star Wars fans, who lean a little bit to the Dark Side now and again, and who have an appreciation for all things Potato Head; and
2) Older Star Wars fans who have everything - a Mr Potato Head Darth Tater will make for one of those 'comedy' pressies that solve the 'what to get the person who has everything' present dilemmas.
Now I know it's a little early to start thinking about presents for the end of the year (you know what I'm getting at, please don't make me say the C word, synonymous with the fat, bearded guy who wears a red suit!) but this is the sort of thing you can safely buy and stash away, knowing the recipient isn't going to grow out of it: once a Star Wars fan, always a Star Wars fan!
You can arrange to collect your Mr Potato Head Darth Tater at your local Tesco store, or you can pay them an additional £3 and they'll deliver it, not quite at light speed, to your door.
May the tater force be with with you!