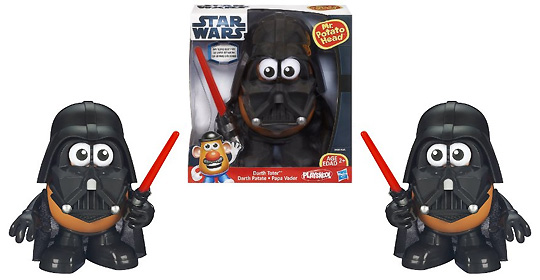 At the moment, Amazon are selling Mr Potato Head Darth Tater for £12.50.  His usual price is £14.99 and until yesterday afternoon he was £7.51...
I've been watchinf this Mr Potato Head Darth Tater for a little while, before it popped up on HUKD, and his price has had more highs and lows than the current coalition Government (although far more highs than them *grin*).
And whilst he's now only £2.50 cheaper than usual, he's still a great Star Wars Spud stocking filler for a Star Wars fan - particularly if they have a dark side and especially if it's a comedy gift for one of those impossible to buy for adults.
If Mr Potato Head Darth Tater is still a little expensive for your taste then bookmark his link and play Amazon at their own price watching game; he's bound to go down in price again over the next 122 days - that's how many days remaining before Christmas day (I was gobsmacked to see  all the usual tins and boxes of Christmas chocolate stacked floor to ceiling and on the shelves in my local Tesco at the weekend!).
All the usual delivery options apply and if you're going to price watch your Mr Potato Head Darth Tater, then may the force be with you!
Thanks to kerrykirkman39 at HUKD