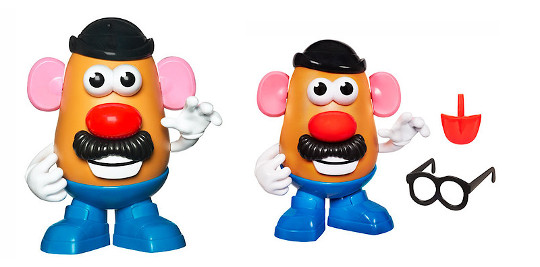 The Entertainer -slash- Toy Shop has 33% off Mr Potato Head at the moment, reducing it to £6 instead of £9. Not earth shattering margins, I know, but every little helps.
Whenever we visit people with this toy, my four year old goes crazy for it. She spends ages entertaining herself and laughing at the funny man. It seems a great price, and definitely something to stick away for her birthday.
Mr Potato Head now features extra accessory holes and facial features for even more face-changing fun. Little ones can mix and match his nose, mouth, eyes, tongue, ears, moustache, hat, glasses, hands and legs to give him lots of new looks.
My favourite thing about it is that when you're not playing, all the parts can be stored inside the Potato body, meaning less stuff lying around the house.
This toy is suitable for kids aged 2 and up, and conveniently, Mr Potato Head's accessories are compatible with Mrs Potato Head for even more mix and match shenanigans.