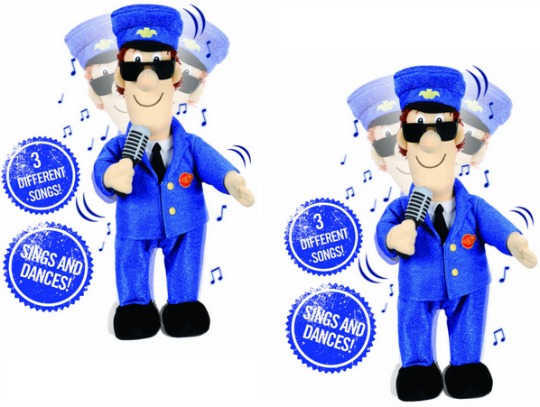 I am going to let you into a little secret, I was OBSESSED with Postman Pat as a child, so much so I'd wait behind the letterbox for our own postie to arrive and once I bit his fingers. He is awesome, and anyone who says the contrary will have me to answer to. If you head over to Toys R Us you can grab a Showbiz Pat half price at £14.99. Should I buy myself one? Probably not but I have plenty of sons to buy one for. *wink, wink*
What's so special about THIS Postman Pat? He dances and sings when you press his hand, not to mention looks rather rock n roll with his shades on and with his retro microphone in place.
Toys like this always go down a treat, and if you have a little Postman Pat fan they will go WILD for this toy. At £14.99, he is at a reasonable price but I am not sure I would pay more to be honest.
You can click and collect for FREE from your local Toys R Us store or pay a MASSIVE £4.95 for delivery.