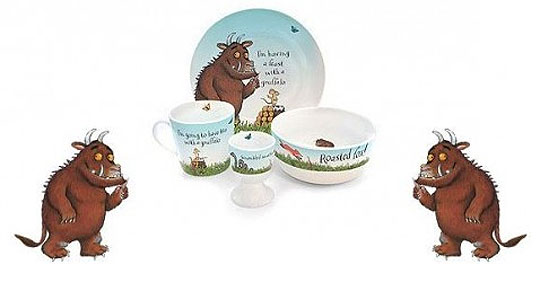 There's only a little bit of a discount to take advantage of with this porcelain Gruffalo Breakfast Set but, to be honest, it looks SO lovely I'd be happy to pay full price for it; the current price is £12.20, the usual full price is £14.95.
I can't help it; I know the Gruffalo has most things merchandised that can possibly be merchandised (I'm still waiting for jars of 'Gruffalo Fresh Air from the Deep Dark Wood' to appear on the market) but I LOVE him.
I can no longer survive the year without a Gruffalo wall planner (I even buy one for my ex-husband every year!) and if I had a child small enough to buy this porcelain Gruffalo Breakfast Set for, then I would.
The lucky owners of this porcelain Gruffalo Breakfast Set will be able to eat dinner from their own Gruffalo plate, enjoy a soft-boiled egg in their Gruffalo egg cup (I quite fancy a soft-boiled egg for breakfast now I've just written that!), drink juice from their Gruffalo mug and scoff their breakfast, and desserts, of choice from their Gruffalo bowl.
Lots of people, according to the reviews, seem to be buying this porcelain Gruffalo Breakfast Set to give as Christening gifts and, by all accounts, the entire set 'survives the dishwasher well'.
I know I'm not the only Gruffalo fan here: do you have a Gruffalo something you can't do without, or would love to have?
Thanks to adslis at HUKD