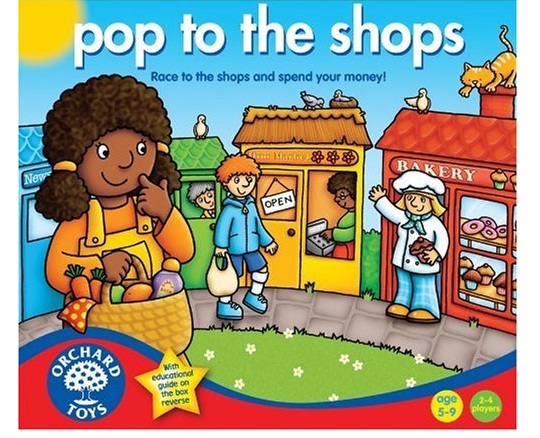 Pop to the Shops is a shopping game. Amazon has it on offer at the moment at £5.13 down from the RRP of £9.50. This includes postage too as this is free with Super Saver Delivery. It is too late to order now for Christmas, but handy to have an extra toy around just in case or to pop in the present drawer. And now is a good time to snap up bargains for next year!
This best-selling shopping game will help children learn about social skills as well as handling money and giving change.The game will teach them to distinguish between different coins, and to work out the value of their money. Every player takes on the role of both shopper and shopkeeper, so it also encourages role playing and polite conversation. Each player is given the same amount of plastic money, including 50p, 20p and 10p coins.
Players move around the 'village' by rolling the die. Each time a player passes the Bank, they collect another 20p. The first player starts by picking a card from the table - this will determine what item the player must buy first, and therefore which shop they will need to aim for.
Visit the different shops on the jigged playing board - the Mini Market, the bakery, the newsagent or the greengrocer - to buy familiar items from the other shopkeepers. Don't forget to ask politely. Players learn to work out the correct coins to use for payment, and have to work out how to give the correct change as well. An educational guide on the box shows how the game is suited to your child's education. A bright, colourful and fun shopping game, suitable for 2 to 4 players aged from 5 to 9 years.
Thanks to Cazza28 at HUKD!