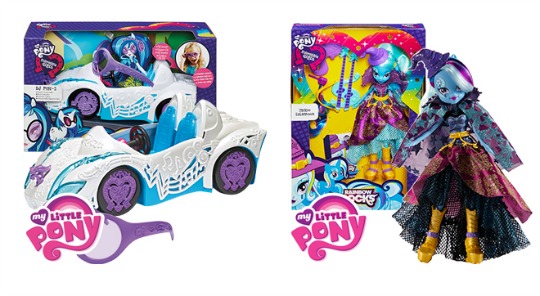 I'm not going to pretend - I have no clue about My Little Pony. I wasn't into them as a child, and I don't think my boys know what they are, but I do know that they are hugely popular, and that the prices that Home Bargains are selling these toys for are much cheaper than anywhere else that sells them.
There are loads of different items in stores, as I saw a massive display in our local branch yesterday, but online there are just four items listed. All of them are available for home delivery only, and not for free click and collect, so if you are near a store you can save yourself the postage charge and grab them from there.
The cheapest item is the My Little Pony Rainbow Rocks Rockin Convertible* which has an RRP of £19.99, and is only £5.99 in Home Bargains. I'd seen it online before but had no idea what a big toy it was until I saw it in the shop - it's a bit of a whopper, though I suppose it needs to be if the dolls are going to ride in it.
If you want a doll to go with it then the My Little Pony Rainbow Rocks Trixie Lulamoon* is selling for £6.99 rather than the RRP of £21.99.
Online there is also the Friendship Express Train and Pinkie Pie* for £12.99, and the large Talking Pinkie Pie* is £13.99.
Delivery charge at Home Bargains vary according to destination and the size of the parcel, and this is calculated at the checkout, or you can also get these in store.
Right, I'm off to google something... is Trixie Lulamoon a horse or a 'rock star' or both? And if she's a horse how can she drive that convertible?