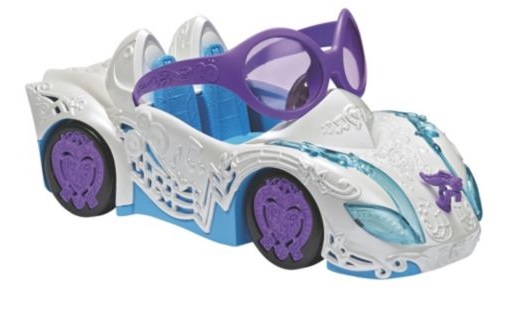 Amazon have reduced the price of the Equestria Vehicle from My Little Pony to just £7. If you have to pay for shipping, that's an extra £3.30, bringing it to a total of £10.30, which is still half the price of places like Smyths and Isme. It is also reduced at Tesco, and is £7 there too, but stock is quite low - there you do have the click and collect option though, or delivery is £3, so it's about whatever suits you best!
Fans of My Little Pony will know and love this vehicle, and they'd be sure to love playing with it and adding it to their collections.
The Equestria Girls favourite record-spinning superstar can cruise along in style in the DJ Pon-3 Rockin' convertible vehicle. This sweet ride will take DJ Pon-3 to the Rainbow Rocks concert for the biggest Equestria Girls jam ever.
The windshield of the convertible looks like Pon-3's glasses and can be detached and worn.
This Equestria vehicle with music-note design details has a DJ booth in the trunk and seats up to 2 Equestria Girls dolls.