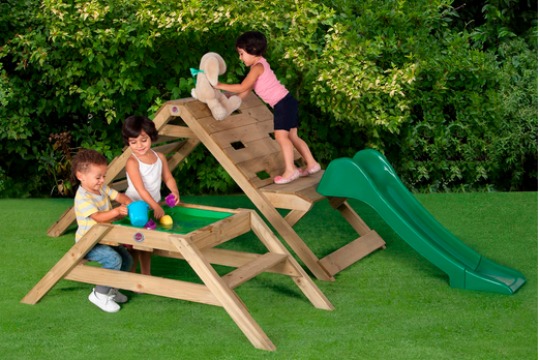 If you are stuck choosing between a nice wooden picnic table or a fun play set for the kids then we have the solution. The Plum Play and Picnic Set is those two things combined and more. Get it for just £119.99 from Home Bargains, they are by far the cheapest for this multi-functional set. Argos are charging £249.99 for this and the Early Learning Centre are sold out at £199.99. My local Home Bargains had these in store too.
The Plum Play and Picnic Set features an "Up and Over" Climbing Wall, Play Deck. 4ft Slide and a Picnic Table with lid that converts into a sand and water table. All of this for £119.99, that is a crazy amount for the money. The thing is it's not going to take up as much space as a climbing frame, slide, sand pit, water table and picnic table if you bought them separately, so if you are limited it'll be better.
Like most Plum products this play set is made from premium FSC certified timber. When I was looking at it in store it certainly looked study enough. The thing is this has been made with a retail price of £249 in mind, so the quality does seem superior to what you would expect from something at £120.
You can buy this online and opt to Collect it from store for FREE!