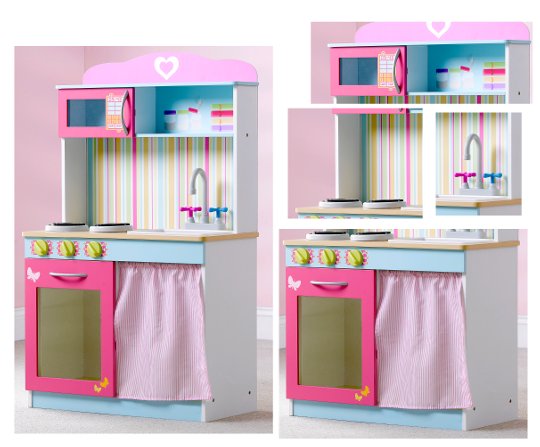 One of the delights of watching my daughter grow is how she's become more and more interested in helping out with stuff around the house. For her it's about learning how to do something new, but for me letting my little one loose around sharp knives, gas cookers and a hot oven isn't something I'm too keen on for obvious reasons.
That's why a play kitchen is such an appealing idea, as it gives my little one a chance to do just what mummy's doing, but in a safe and fun way that's more suited to a three year old's stature.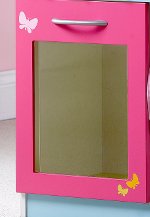 The Plum Mews Wooden Role Play Kitchen( £100) stands just short of a metre tall, is recommended for ages three and up and has all the essentials for your little girl or boy to serve up some great (imaginary) treats for the whole family to enjoy.
There's an oven, two hobs, a sink with twin taps, a microwave and plenty of storage for the various play foods, plates and cups you might already have knocking around.
The main unit of the Mews Kitchen is made out of good quality wood, which both explains and justifies the price, and with the whole lot weighing in at over 10kg there's nothing flimsy about the structure.
Before you can let your little one loose on her new kitchen, though, you'll have to put it all together, and it's a good two hours of work getting there. The instructions aren't too difficult to follow, though, and all the pieces and the various screws, hinges and wooden dowels are clearly marked.
It helps in part that it's quite a colourful unit overall, with various shades of pink, blue, purple and white all working together quite tastefully to make it a really more of a girl's kitchen, but not a girly kitchen.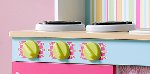 From a safety point of view, all the outer screws and the like are all recessed, plus the main counter's corners are rounded, and the above-counter section is narrower than the bottom, so there's no danger of your little one bumping her head, and the weight is centred towards the ground.
Where the Mews Kitchen scores some serious plus points, though, is in the smaller details. It actually comes with a couple of plastic pots and utensils – not a lot, but enough to have something to play with out of the box that matches the overall unit.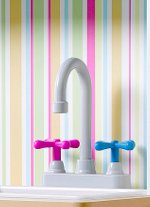 For us, the most popular part of the whole kitchen has been the three control knobs for the hobs and oven that attach to the front of the Mews Kitchen, which turn with the same satisfying clicks as in a real kitchen. Our daughter is drawn to those knobs like a moth to a flame.  Likewise, the taps turn realistically, even if no water actually comes out and the red for hot has somehow turned into purple to match the rest of the unit. The plastic sink is easily removed for cleaning, you'll be pleased to hear.
Overall, the Mews Kitchen is a choice I'd highly recommend if you're in the market for a play kitchen. It mixes quality, fun and realism in equal helpings, and should provide many hours of educational role-play for your daughter (or son) for plenty of time to come.
The Good
The Mews Kitchen is colourful, bright and full of space and things, perfect for capturing a child's imagination, but not much bigger than the child - it's a good size, but not huge

It comes with a few kitchen bits and pieces

It's sturdy, and while we haven't had it for very long, it seems to be quite good quality that will survive at least two little girls

It has moving parts that make for more interactive play

The sink comes out to make it easy to wash and clean
There are enough elements to it to make it fun and give kids room to play, grow and learn
The colours appeal to kids
It took my husband two hours to put up on his own, although the instructions say two people need to do it, and it'll take around two hours
The Bad
It's a play kitchen. Not much that can be bad about it! I don't personally like the colours, it's too bright for me, but then, I'm not a three year old. I would also prefer to have a cupboard door to a canvas curtain, but that again is a personal preference.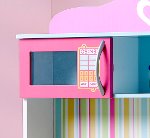 The Verdict
There are two 'types' of play kitchens: the gorgeous, stylish super expensive Kidcraft-type, which will set you back a couple hundred pounds, and the Asda-style, £40 on sale style. This fits nicely in the middle. The Ikea-style, minimalist play kitchens all come in at a lot less than this one, but for the farmhouse style, wooden, good quality, independent brand play kitchen, the Mews Kitchen is a really good price for a lovely item, that my daughters and I highly recommend.