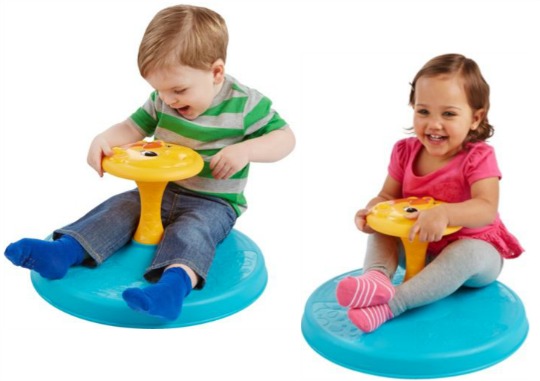 We have this and it has been passed down all of my children. I don't think there has ever been a time when it has not been played with. I want an adult version to be honest. The Playskool Giraffalaff Sit N Spin is reduced from £27.99 to £10.99 at Argos which is a cracking price. I paid £20 for this years ago.
The Playskool Giraffalaff Sit N Spin has lights and sounds to encourage your child to spin, spin and spin. I will warn you that this toy will make your child wild.
This has a five star rating on Argos for good reason...kids go daft for it. It's such a simple toy as well and the first one was out in the 1970's. Basically your child sits on the disc and wraps their legs around the neck whilst holding onto the spinning wheel at the top. By using that wheel your child can control the spinning and can go as slow or fast as they like.
You can reserve and collect the Playskool Sit N Spin from your nearest Argos store or pay £3.95 for home delivery.