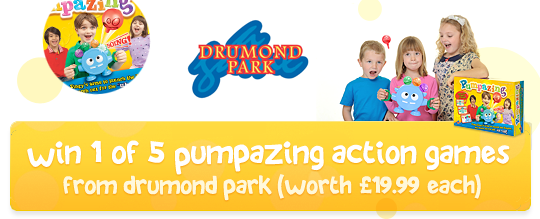 *****This competition is now closed****
Need something to keep young-ish children entertained – girls or boys? Look no further than the UK's leading independent games company, Drumond Park – and their new Pumpazing action game (age 3+, rrp £19.99). It has been developed specifically for pre-schoolers and above by the company's creative team, all of whom are parents themselves. You can win one of five copies of this awesome game by simply entering the competition below.
It's child's play to place the four colourful Zinger heads in position along the top of the Zingy. In the simple 'starter' version of the game, little children take it in turns - pass-the-parcel style - to pump Zingy's arms as fast as they can until Zingy shouts "zing" or "boing" as one of the Zingers comes flying off… But if Zingy says "Uh Oh", the player is out – and the next child starts pumping away! In the meantime, the other players will also be getting a work-out, running all over the place to pick up the Zingers!
Older children can play the 'Lose A Life Card' challenge, where one of their cards is taken away whenever Zingy says "Uh Oh". This game is fantastic fun for anyone with bundles of energy to spare. And it's perfect for parties, where large groups of children can all play together!
How To Enter:
Standing a chance to win one of these fabulous games is simple.
Question: Visit the Drumond Park site and tell us - does Pumpazing need batteries?
Leave a comment in the thread below with answer (1 entry)
For bonus entries to the competition:
Subscribe to the PlayPennies daily email update (1 entry)
Tweet a link to this contest and leave your twitter link below (1 bonus entry)
Rules:
Contest ends on 24 February 2013
Open to UK residents only
One type of entry per household
Must complete email verification when subscribing
Must include a valid email address if commenting
Admin's decision is final in all cases