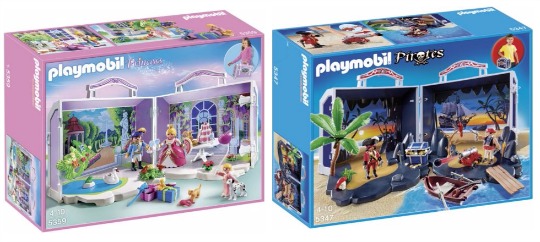 This is one of the best deals on Playmobil I have seen for a long time! Nada already told us about the fab 3 for 2 that Amazon are running on selected Playmobil sets at the moment, and what's even better is that these two big Take Along Sets have now been massively reduced as well!
Both of these sets have an RRP of £49.99, and although they can often be found for nearer the £25 price range they have just been price dropped today. The Take Along Pirate Treasure Chest is down to just £20, and the Princess Birthday Party is just a couple of pounds more at £21.99!
I can't see either of these sets for less than £25 anywhere online at the moment, though it's possible that this price drop is to match the Sainsbury's in store toy sale or some other similar offer. Either way, with these both being included in the Playmobil 3 for 2 that is an offer that can't be beaten right now.
I was looking at the pirate Playmobil yesterday and pricing up whether to get some for my kids for Christmas and this set was nowhere near this price then, but it's going in my basket now, right along with the Father Christmas with Reindeer Sled* set. I just have to choose which other toy we want for free!
If you don't want to make use of the 3 for 2 offer then either one of these Take Along play sets also qualify for free delivery on their own as they hit the £20 needed for free super saver delivery.
Thanks to bowlingnanny