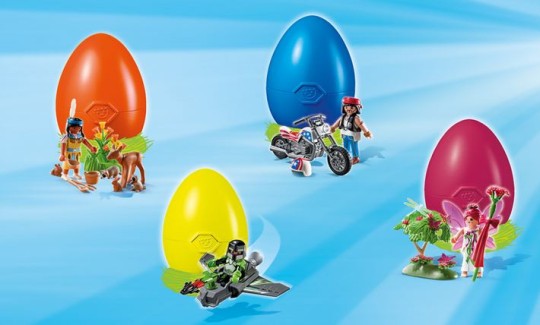 I love chocolate as the next person, but between Valentine's day, Mother's day, and Easter the first half of the year involves so much chocolate, I actually start worrying about my children when they pretty much expect it on any given day. Throw into that mix the crazy amount of birthdays we have this time of year, and I sometimes have to sit back and think really hard about when last my kids didn't have sugar! It's a far cry from the days of 'not my little sweetheart' that I once smugly held on to! (And I can just hear my friends with older kids laughing at me now!)
If you're like me and want to cut down on the Easter eggs without leaving your offspring feeling neglected come Easter Sunday, Playmobil offer an alternative I just love: The Playmobil Easter Egg.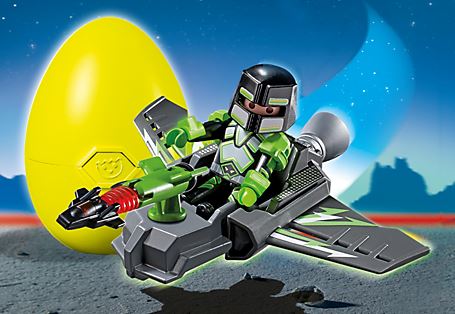 There are four eggs to choose from this season: The Flower Fairy With Enchanted Tree, Native American Girl With Animals, and the Robo Gang Spy with Glider. Personally I just love the Native American Girl egg and was thrilled to be able to review it.
I know if I laid the options out in front of my girls, they'd both go for the Flower Fairy, no question about it, so I opted for the Native American Girl and the Biker because those would both be loved too, without causing fights.
Each Playmobil Easter Egg comes with it's own list of goodies. The Native American Girl comes in an orange egg and comes with a Native American girl with deer, raccoons, rabbits, flowers, and other accessories. The biker comes with a bike, helmet and biker. Each egg is a different colour too, so if you buy a blue egg you know you're getting the biker - no annoying duplicating or 'surprise' that isn't so surprising.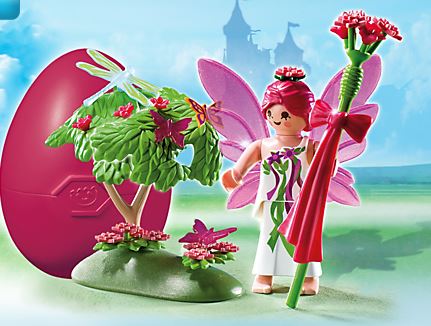 The eggs are roughly the same size as your standard supermarket Easter Egg, and when the bits are played with and amalgamated into the toy box, the egg itself can be used as a treasure box - I know my oldest is obsessed with bags and boxes to squirrel things away in, so these will be as much fun as the contents, I'm sure.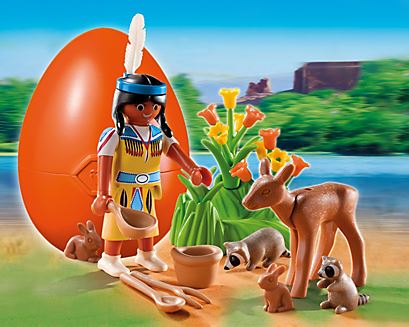 Personally I'm vehemently opposed to the idea of Easter gifts. Seriously, we need another commercial holiday? I don't. But, if you were going to do eggs, which lets, face it, most of us are, then rather that chocolate that's guzzled immediately, makes the kids crabby and irritable, lowers their immune sytems and apart from being sweet, isn't even always nice, then this is a superb alternative!
And for those kids who can't have dairy? Again, a superb way of making sure they don't feel left out.
Particularly as these eggs are about the same size as your regular eggs, and look like regular eggs. They can be hidden in the garden along with other Easter eggs, or they could be used as a prize at the end of a hunt using stickers. If you wanted it as a party game or to really stretch out the fun on Easter Sunday, make the children search for puzzle pieces, the picture of which makes up a map to the treasure, and the treasure being these fabulous eggs. The ideas are endless.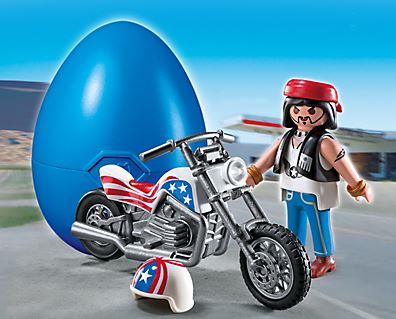 At £5.99 not many of us are likely to buy them as goodie bag fillers as the blurb on them suggests, but if you're only buying a couple rather than a dozen chocolate eggs it won't break the bank, and they'll be able to play with and enjoy their loot long after the bank holiday weekend is over.
The pieces are quite small, so if you have a mouther, you probably want to stick to the age limit of three, but my two year old loves the motorbike - my dad rides one, so she calls the biker 'Oupa', like my dad. You know your child, so use your own discretion here.
The Good
It's an egg
It's not chocolate
It's fun, durable, and lasts beyond five minutes.
It fits in well and becomes part of other Playmobil toys
It' great if you have dietary restrictions or simply want to reduce the chocolate intake
It's not as cheap as cheap Easter Eggs, but it's not going to break the bank either. I don't think it's overly expensive for what it is.
It can be presented as is, or taken out of the packaging so that the contents are a surprise.
The Bad
Crickets here folks. I can't think of anything bad.
The Verdict
I think the Playmobil Easter Eggs are a great purchase. I love that they're an alternative to chocolate. I love that they will be loved by the children, so you don't feel like you're fobbing them off with something else. I love that they are different, unusual and fun. I think they are fabulous, actually.