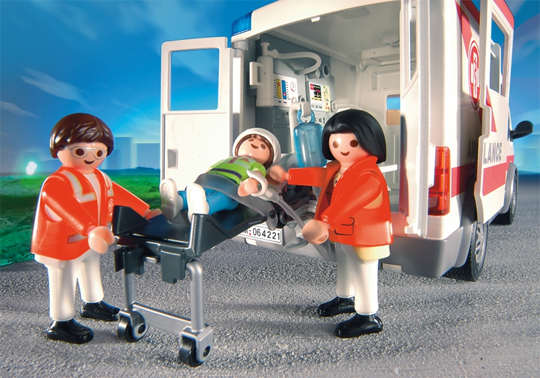 Playmobil have been on the toy market for many years now and are still as popular as ever. Simplicity is key, when it comes to pleasing children. Get this Playmobil City Action Emergency Ambulance for just £27.40 from Amazon, or Argos. You will see a LOT of price matches from Amazon whilst Argos are running their 15% off toys event. Both Amazon and Argos are offering FREE delivery so it doesn't matter who you get it from.
The Playmobil City Action Emergency Ambulance may be simple in it's play ideas but couldn't be more detailed in it's design. It has a real working flashing light. The roof can be removed and  side/back doors can be opened.
What impresses me the most is the accessories that come with this play Ambulance. Medical instruments. Folding gurney with straps, First aid kit for those minor ailments, Defibrillator for those suffering from Cardiac Arrest, Oxygen tank, Oxygen masks, Casts for broken arms & legs, Head wrap bandage, Medical bags, Cell Phone, Bicycle, Patient, Driver & EMT figures. It even has an IV hook up!