PlayMobil Advent Calendars £11.99 @ Amazon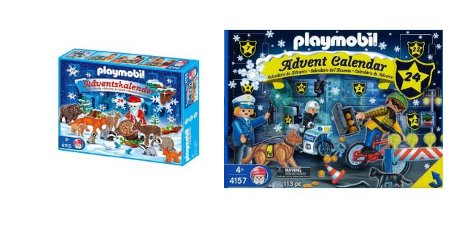 Amazon have a couple of Playmobil Advent Calendars on offer at £11.99 – a £5.00 saving – instead of £16.99. (Mail Order Express currently has the same offer,[thanks SlayerKat at HUKD] but doesn't include postage!)
While I'm loathed to even think of Christmas, with summer still hiding in the shadows, it's never to early to save some pennies, is it?  Advent Calendars are a great part of Christmas and a great way to get everyone in the mood, but do we need the added sugar? Not really – which is why I love this idea! Toys that build into a collection? Fabulous!
So, the Playmobil Advent Calendars available on this offer are the 'Police' and 'Christmas In The Forest'  Calendars.
Each Playmobil Advent Calendar has 24 boxes to count down to Christmas and as each box is opened it creates a scene. The Police Advent calendar includes a robber on a push bike, a policeman on a motorbike, a policeman with a police dog and plenty of accessories.
While that's all fine and well, I adore the Christmas in the Forest set. As one Amazon commenter writes, "The beginning of December begins with a quiet wood that over the first four days of December accumulates a few trees, birds, and scenic items. Then animals arrive, one by one each day - sometimes bringing food along with them. First come the deer, a buck, a fawn, and a doe, later mama and baby raccoons, boar, foxes, badgers, and mice. A few fir trees are thrown in on a couple of the days, and the final three days are devoted to: 22. Santa's 'sleigh' (Santa pulls this himself) 23. A whole bunch of food for the animals - presumably that which Santa is delivering on his sleigh, and finally on the 24th, Santa Claus himself."
I love that and think it sounds magical – even if it is way too early in the year.