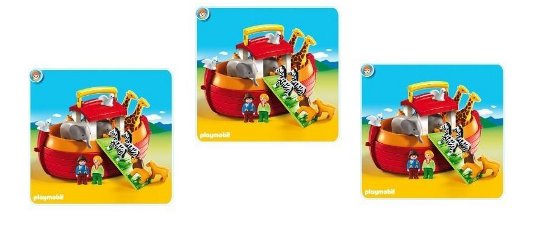 Tesco Direct are continuing their clearance with this Playmobil Noah's Ark for £13.47 instead of £19.97. It's £20 at Boots and £20.35 on offer at Amazon.
The Playmobil Ark is a lovely, chunky toy, apparently, and great for little hands to grab on to. Not too little as Playmobil recommend it to over 18 month olds, but still, enough that they won't choke on the parts.
The Ark comes with two characters, Noah and his wife – her name was Naamah, if you're interested. They man the ship while the animals board, and the animals that come along in the Playmobil version of the journey are two giraffes, two elephants, two zebras, two lions and two massively out of proportion doves (so Africa's biggies are safe from extinction, at least!)
These are great bath toys, or normal toys and make for great solo play or together play – and hopefully with two of each, there'll be less arguing over who plays with what.
The roof of the Ark lifts to contain all the animals and makes for great storage.
Thanks to missgem at HUKD