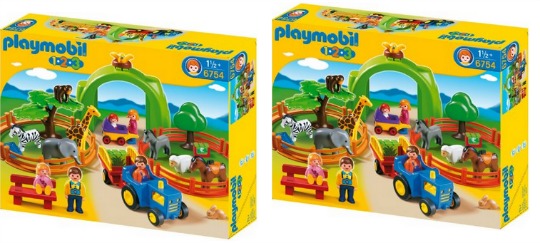 When I was little I had lots of Playmobil play sets. They are still very sought after but can be very expensive and tend to be excluded when the big retailers put promotions on. Nip over to Amazon just now and you can get this Playmobil 123 Large Zoo play set for just £20, plus you get it delivered for FREE with Super Saver delivery. This sells for around the £30-40 mark elsewhere, so this is a good deal.
The Playmobil 123 Large Zoo play set is suitable for children aged one and a half years old and above. Included in this set are animals, their enclosures, a tractor with a removable trailer, figurines and lots more.
Small children love playing with play sets like this. Not every child wants to have to build things like you do with Lego, so a set like this can be better suited to some. Imaginary play is so important and sets like this really do spur that on in small tots.
This can be added to any other Playmobil 123 set and you can be juggled about to fit in with other pieces. Playmobil is certainly something to consider if your child isn't too fussed about Lego.