Playmobil 123 Large Zoo £20 @ Tesco Direct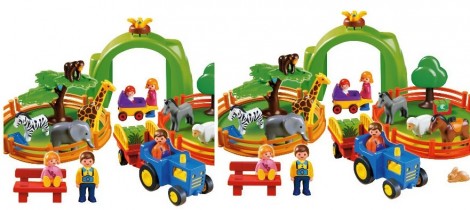 This is an ace deal from Tesco Direct. The Playmobil 123 large zoo is down from £40 to only £20 making this exceptional value and a great Christmas gift. You can pay for delivery or you can arrange to collect your lovely toy instore.
The Playmobil large zoo has everything your child needs to have fun at the zoo. The set includes two sizeable enclosures for all the lovely zoo animals that you plan to keep and so that they animals don't, um, eat the passers-by, of course.
You get a monkey, giraffe, sheep, horse, and a rabbit for your zoo too. This amuses me greatly. I mean, a horse, a sheep and a rabbit implies FARM but the giraffe and the monkey imply zoo. I know you get rabbits at the zoo but it does seem a bit, well, boring. Why not a leopard or a lion?
There is tractor and a trailer included as well as five Playmobil figured and nine farm animals.
Thanks to missgem at HUKD!