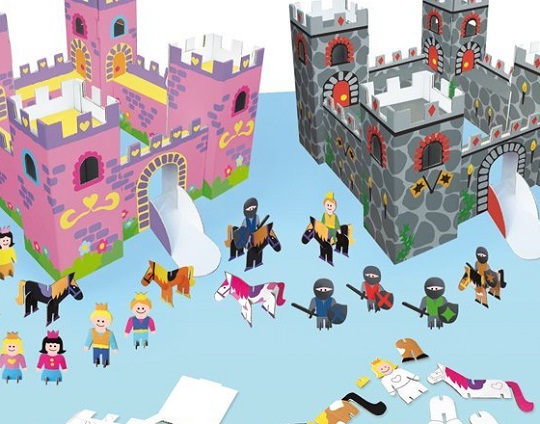 Amazon has this Playbox Knights & Princess Build a Castle Set reduced to £4.80 from the RRP of £15.99. Plus, delivery in the UK is free. I would be quick if you like this toy, as I don't expect it to last long at this price.
Forget the name, this is actually a build a mediveal castle set. You could paint it any colour or way you want. A fabulous gift for boys and girls. I had a castle made from a cardboard box when I was a kid and I absolutely adored it. There's something about mediveal castles that appeals to everyone!
It's a world full of possibility and adventure, even when you have to play indoors. This is a beautiful pre-fabricated castle, complete with cardboard figures and animals, will it be a Knight's Castle of jousting and hunting, or a Princess castle of music and dancing, you decide.
Paint the cut out pieces, then slot them together to make your castle for hours of medieval play. Glue and paints are not included. Playbox specialise in high quality, non-toxic arts, craft and play sets for use in schools and at home. Product is not suitable for children aged three years old or younger.